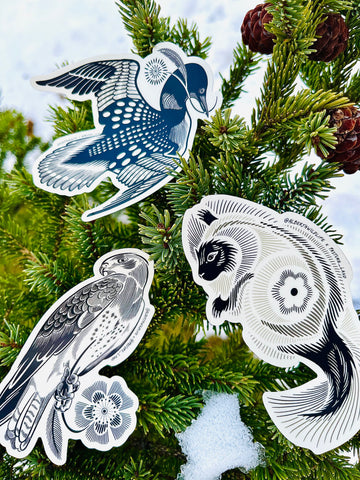 ---
---
Presenting the wildlife sticker series meticulously created by Geneva, an artist based in Alberta, who operates from her studio, Pastureland.
Pastureland is a breathtaking representation of her craft, which encompasses paintings, illustrations, and textile designs. Geneva's creative journey is inspired by her deep appreciation for the often-overlooked beauty of the natural prairies. This commitment to representing nature's biodiversity is beautifully expressed in her latest creation: the Wildlife Series Stickers, featuring the Common Loon, Swainson's Hawk, and North American Porcupine, all based on patients that AIWC has admitted this past year.
These hand-crafted, whimsical, and delicately intricate designs are perfect for adorning any surface and serve as a heartfelt homage to the wild and its inherent beauty.
Every sticker is a masterpiece in its own right, a reflection of Geneva's dedication to sustainable practices. With a profound love for her surroundings, Geneva strives where she can to support environmental action initiatives.
Explore the captivating world of nature through the Wildlife Series Stickers and bring the wild into your life today!
Dimensions: Approximately 4.5 inches x 3 inches each.
---